Charlotte, NC — In the latest twist of psychotic Democratic behavior, a DC committee recommended some changes to several US monuments. Specifically, they said that the federal government should "remove, relocate, or contextualize" these monuments. Some of those included are the Jefferson Memorial, the Benjamin Franklin statue, and the Washington Monument.
The committee delivered their report to DC Mayor Muriel Bowser who shared the information on Twitter. A copy of the committee's recommended changes can be read in full here. Fair warning, it's full of absolute ridiculousness.
According to the report, there were 153 names of buildings, roads, monuments, neighborhoods, parks, etc. that were after persons of concern. The committee recommended renaming schools that were named after people like Alexander Graham Bell, Francis Scott Key, Thomas Jefferson, and Woodrow Wilson. Public spaces named after William Henry Harrison, Thomas Jefferson, and James Monroe also made the list.
Government buildings named after Benjamin Franklin, Francis Scott Key, and Andrew Jackson made the list. Sen. Tom Cotton shared the image below to his Twitter page showing some of the recommended changes.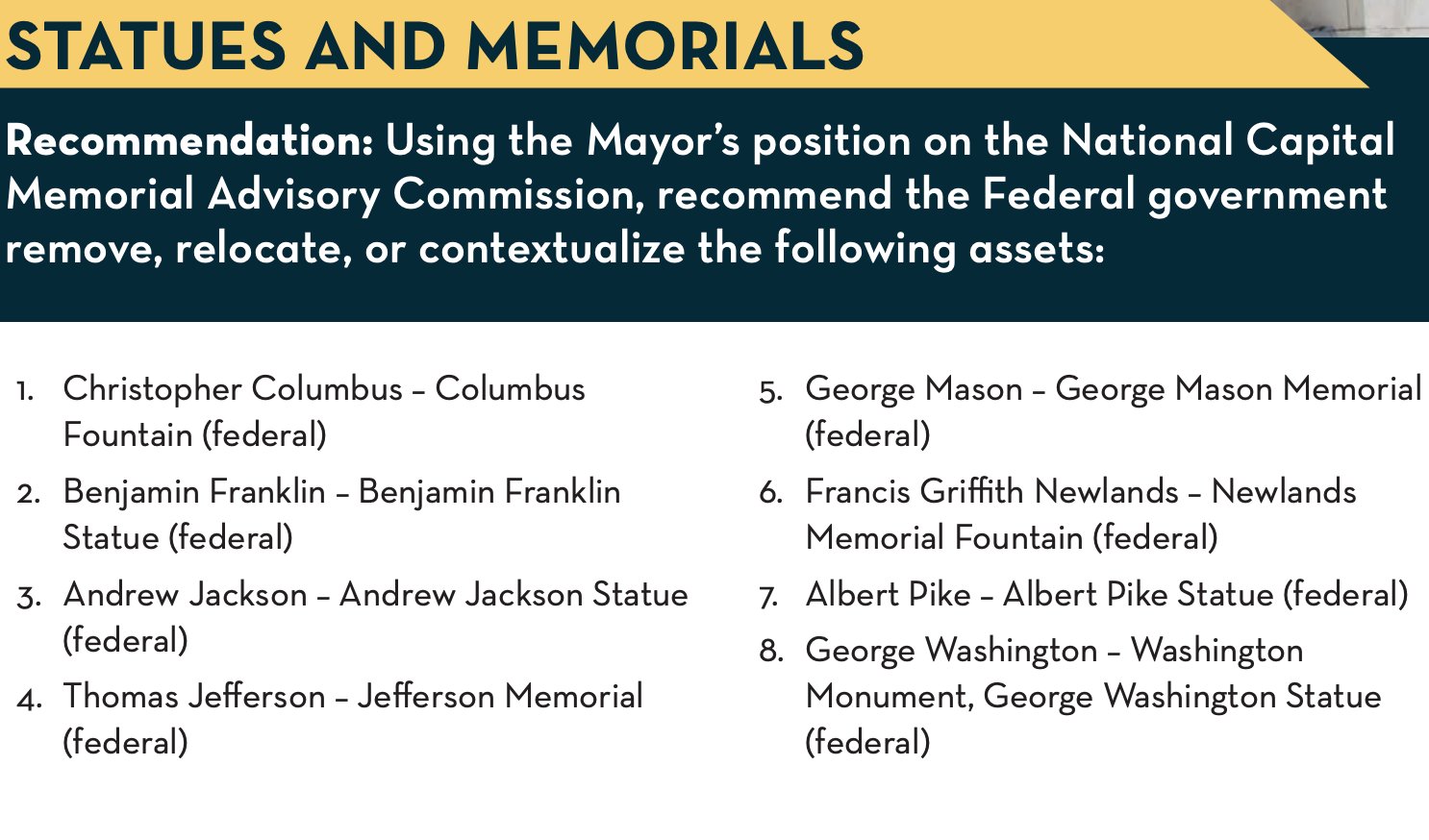 Comments were quick to roll in about the recommendations. Some asked questions about how you move some of these monuments. Some spoke out with frustration about the potential move of the monuments and the ridiculousness of the proposals. Others said the mayor should be removed and others asked why the name of the city was not included to potentially be renamed.
The Secretary of the Interior was quick to respond to the suggestions in a tweet. He said that there would be no changes under his watch.
Not on my watch. Never going to happen. https://t.co/WdSQx3ZCes pic.twitter.com/xHKekThBAA

— Secretary David Bernhardt (@SecBernhardt) September 1, 2020
The Democrats continue on their mission to destroy and abolish any remembrance of American history. They want to eliminate it from existence. Perhaps this is a good time to remind you that Bowser was once considered a potential running mate for Joe Biden?
She's a strong supporter of Black Lives Matter, even promoting and allowing the violence across her city. She is quick to speak out against President Trump but refuses to lead her own city. Instead of leading, she's pandering for attention to remain relevant.
Americans are losing patience with this type of ridiculous leadership out of the Democratic party. The election races are tightening between Biden and Trump in the polls. Independents and even moderate Democrats have to admit that these items are getting out of hand.
When did it become so horrible for our country to have any history? I have shared many times that our history is not perfect, but it makes us who we are. It shows how far we have come as a nation to improve and get better.
Instead, they prefer that we ignore who we are, ignore what we are, and destroy anything we have become. Rather than being a nation of free people, they want us a nation of people enslaved to the government to tell us what is best. We have to remember our past, to know how great we have it in our country today.
JD Washington is the Editor-in-Chief at The Liberty Loft and host of The JD Washington Show. Be sure to subscribe to The Liberty Loft's daily newsletter. If you enjoy our content, please consider donating to support The Liberty Loft so we can continue to deliver great content.
https://directory.libsyn.com/episode/index/id/15830090